i have a confession to make...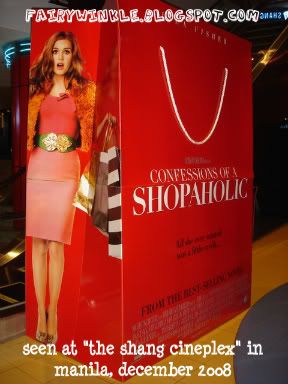 i have 5 of the 7 books in
sophie kinsella's
"shopaholic" series and i haven't even started reading one of them! it's quite embarassing. it was one of her other books called
"the undomestic goddess"
that got me acquainted with this famous british chick lit author. it was also that book that introduced me to the term "chick lit." i loved that book so much that
i bought the audio version from ebay
as well, just so i can hear the book being read with a
british accent.
haha. i hope they turn that book into a movie, too! (and then i can proudly say, i read the book first!)
i tend to hoard books that end up gathering dust in my book shelf, staring longingly back at me, begging to be read. i do get to read them eventually, just not in an ideally timely manner. maybe i should just try this clever little online library service,
bookswim
, that lets you borrow books conveniently through the mail...sort of like
netflix
, but for bookworms! this way, i don't have to spend money on books, and i don't have to drive in the snow to the library! except, of course, for books worth owning. some books are considered treasures...like my
"pugad baboy"
collection that i'm still building. hehe.
i knew i was behind with my leisurely reading when i spotted the movie's promotional shopping bag (photo above) in the philippines last december. i was at shangri-la mall back then to see a different movie with
my friend
. we have photos posing by this giant shopaholic bag, but i'm not posting it here. hehe.
three months later and thanks to our internet service's
free movie tuesdays promo
, i got to see this film version of the book. i actually have a personal rule that i should first read the book before seeing any movie version of a book, but i haven't been complying. i've seen all the harry potter films to date and the lord of the rings trilogy without having read the books. sad, i know.
the movie's heroine is
becky bloomwood
, a magazine writer living in new york city who can't get a leash on her excessive credit-card spending that her best friend signs her up for "shopaholics anonymous" sessions in the hopes of changing her prodigal spending ways. in the book, becky is actually british, but the movie portrays her as a new yorker. the film managed to squeeze in something british in the person of becky's boss/love interest who turned out to "speak prada" aside from being a mere (boring) money maven.
i think the movie picked a perfect time for it to be shown, right smack in this financial crisis. most people can relate to her (that is, people drowning in debt), and most women would understand her describing the therapeutic qualities of shopping--even window-shopping. it was amusing to see the store mannequins coming to life, particularly one at barney's that convinced her to buy that expensive green scarf which would become her signature cyber accessory as
"the girl with the green scarf,"
dishing out financial advice with fashionista flair. the irony and comedy of it all is that she herself needs it.
perfect movie for a girls' night out, especially when one needs to be reminded to spend (or better yet, to
not spend
at all) within one's means. frugality aside, my sister and i also share this shopping rule: "when you see it, buy it!" applies especially to clearance items, because now you may see it, but five minutes later, you may not. and some things don't always end up on ebay. just yesterday, we each scored a sheer polka-dot blouse (in our respective sizes) at the
j. crew
store for
only $4.99
! what a steal! you don't think twice for bargains like that! haha.