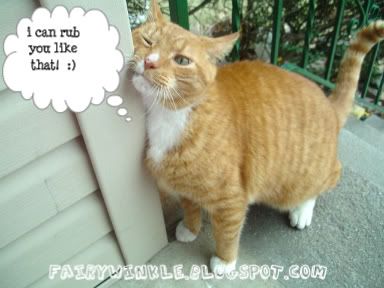 meet
tommy
, our next-door neighbor's senior and obese cat. he's the outdoor-type, since his human owners won't let him inside anymore. a fancier feline lives inside their home now. he knows his name. when he wanders off into our property, he likes to show affection by rubbing himself to nearly everything around him. he's really old, he's been around since i first came here in new jersey many years ago.
tommy reminds me of holly golightly's cat in
"breakfast at tiffany's"
. i think that cat should get an award for "best supporting cat!" i cried at the ending when holly went looking for her cat in the rain...and of course, he was found! (and got sandwiched in a wet kiss between holly and paul). i'm just a little disturbed at how audrey hepburn's character actually got married at age 14(!) to an older animal doctor in some hillbilly state. that's pedophilia!
after watching this movie, i recalled how our teacher in PEHM (physical education, health & music) back in highschool made us sing
"moon river"
for a music test. there wasn't internet at the time which would have easily given us an idea what the song sounded like via youtube. i think we asked classmates around if their parents knew the song. haha. so yes, i sang this song hesitantly (because i've never heard it before nor have seen "breakfast at tiffany's" then)...but i remember my teacher nodding as i sang. maybe she loved frank sinatra, or the audrey hepburn movie, or both.
ash wednesday
, i was in new york city. had my forehead smeared inside st. patrick's cathedral. on my way back to times square, i went inside the whimsical
anthropologie
store near rockefeller plaza and spotted a charming audrey hepburn book called "
how to be lovely: the audrey hepburn guide to life

.
" i almost bought it, but decided i can always get it cheaper somewhere online.
oh, and in case you haven't noticed (or, if you care! haha)....i'm back from my temporary blog hiatus.
[book image from barnesandnoble.com]