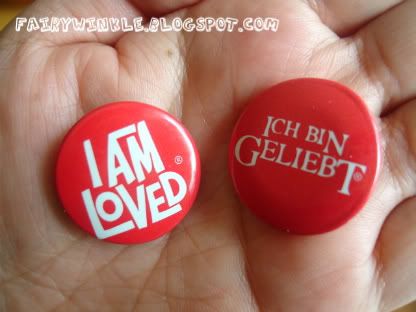 here are a couple of the free "
i am loved
" buttons (in english and german) i was able to snag from the
helzberg diamonds
store at our local mall. when you drop by their store, there's a bowl filled with these red buttons declaring "i am loved" in eleven different languages such as chinese, hebrew, french, italian, japanese, etc.
the jeweler's website shares that these buttons were inspired by
barnett helzberg, jr.'s proposal to his girlfriend in 1967
. he wanted to share the love through these adorable buttons as a way for people to express their love in conjunction with their signature sparkly gift, or alternatively, by themselves as a simple token of affection (when they're not ready to give a diamond quite yet).
check out the
official "i am loved" website
, where people can share their own "i am loved" stories.
i know this post is a little late for valentine's day...but love shouldn't be just a certain date on the calendar, right?
wouldn't it be cool if mcdonald's gave away free "i'm lovin' it" buttons in different languages as well? hehe.