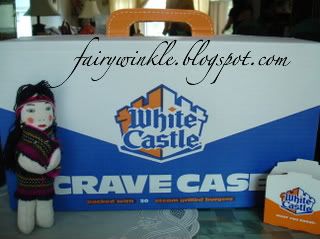 yes, you read that right! for
white castle
fanatics, they can satisfy their burger cravings by ordering a "
crave case
"--a box shaped like a suitcase filled with 30 of their famous steam-grilled burgers. hey, if you have to drive ten miles just to get there, you might as well buy in bulk! after all, their burgers are smaller compared to the average burger (imagine mcdonald's regular burger sliced in half!). naturally, you can't just have ONE burger.
compare miss igorota's height to the small container to the right--said container holds one of those burgers. the container's bottoms each have a piece of trivia to ogle at, like snapple's bottle caps do. one of them read, "washington did not cross delaware on a boat, but on an enormous block of cheese!"
my sister and her boyfriend were rewatching the comedy "
harold and kumar go to white castle
" (starring
john cho
and
kal penn
) on dvd yesterday afternoon, stopped the player to buy said burgers all the way in ledgewood, then came back with the "crave case" and resumed watching. i haven't seen this movie in its entirety, but i am aware that it now has a sequel, "
harold and kumar escape from guantanamo bay
" that's currently showing in theaters.
kal penn, who's now part of the hit medical tv series "house", is actually a new jersey native!
i probably ate around ten of those burgers. now the excess baggage is in my belly!