if you're planning on giving books, DVDs (single or boxed sets), or CDs to friends or loved ones for christmas, i highly suggest that you go to
borders bookstore
. i say this not only because it's where i love to shop for books, but also because this holiday season, borders is offering
free gift wrapping
with ANY purchase.
i go to borders a lot because i live only 5 minutes away from one, and i usually browse the bargain books section. my most recent book purchase (to my delight) was
paulo coelho
's
"the zahir"
. these discounted books will usually have black marks at the bottom, indicating that they're the final stock of such titles, but the prices will really make you and your wallet smile.
recently, i purchased the DVD boxed set of the tv series "
ugly betty
" season one to give as a gift for my sister who had expressly wanted it. for my little cousin who has a gazillion dolls, i decided to giver her a set of princess books to encourage her to read. she has enough toys to play with.
there was a booth by the bookstore's entrance with girl scouts who cheerfully ask customers who leave the counter if they want free giftwrap. i took advantage of this and chose the adorable polar bear and faery holiday wrap for them to use for my gifts. there are other designs to choose from, but the design i picked is borders' official holiday logo.
it's amusing to watch the girls dutifully wrap the items. it's not as flawless or visually appealing as i would have done it, but i would welcome five minutes of not having to wrestle with wrapping paper myself anytime. and did i mention it's free?
the girl proudly added a red ribbon around the "finished product" and handed it to me. i thanked her and dropped a dollar in their tip jar. they then greeted me "happy holidays!" in unison as i left the store.
this is what that polar bear gift wrap looks like...the backdrop is a partial view of our christmas tree. oh, and they also sell an actual stuffed toy of such polar bear for $8.99 with a $30 store purchase.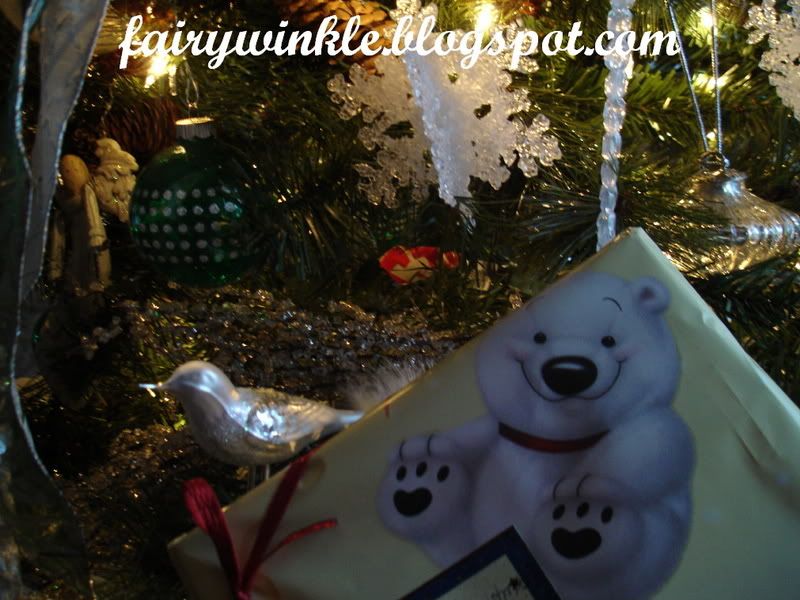 i had also bought a 50th anniversary edition of the grinch ornament at a hallmark store to commemorate my having watched the musical on broadway this year. it hangs with my ornament collection of places i've visited on a smaller, fiber optic tree we have at the basement. you'll see the "maid of the mist" ornament i got at niagara falls. the white ornament on top of mr. grinch is a little replica of st. patrick's cathedral from new york city.
must remember to keep my purse-strings tight during the holidays. i've sworn myself to a more meager shopping budget this year. let's hope i remain faithful to it, for my own good!