my sister, little cousin abby and i watched
dr. seuss' "how the grinch stole christmas!" the musical
at the st. james theater on broadway yesterday, thanks to discounted tickets sold at my sister's workplace (which included the round-trip bus ride).
the musical is based on the classic tale of that christmas criminal called mr. grinch, whose hatred for the happy "whos" motivated a holiday heist, because this creature had a heart "two sizes too small".
i was lucky to have seen the original animated adaptation of this seuss story on tv a few days prior to the musical, therefore preparing me for a more enlightened appreciation of the on-stage version. it's the perfect holiday musical to treat your little ones to (as our little cousin abby was on the edge of her seat from enjoying every song-filled second of it) because the production is whimsically faithful to the rhyme-filled book--as if dr. seuss' drawings came to life in all its whoville glory. yes, even the props and costumes were fashioned after seuss' style--billowy skirts and all! but most importantly, the story teaches children the true meaning of christmas.
now is also the perfect time to see it because this year marks the
50th anniversary
of that mean one, mr. grinch!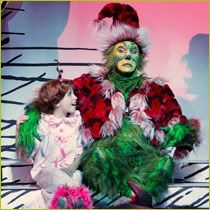 the grinch was perfectly portrayed by
patrick page
, (who also played the villain "scar" in disney's broadway musical "
the lion king
") what with his sinister voice and furry green suit. the story is narrated by his dog max, now a senior mutt, whose younger days saw him as an unwitting, one-antlered accomplice to his grouchy master.
the musical ended with festive singing (and "roast beast"-sharing), and the audience was showered with fake snow and then red and white confetti. kids (and kids at heart alike), knew that their hearts "grew three sizes bigger" at the end of the show--just like mr. grinch himself.
the musical is only an hour and a half long (without an intermission), but it's packed with colorful, swiftly-moving sets and seuss-flavored songs.
this is only the second musical i've seen in new york city....the first one was "a christmas carol" a few years ago at madison square garden. after seeing "the grinch", i realized just how much i'm missing out on broadway musicals. i want to see "
xanadu
" next!