one of the small, natural visual delights that summer brings here, i recently discovered, is the massive display of
fireflies
fluttering everywhere by dusk. it's best to watch out for this when the sun has fully set, which is ordinarily around 8pm during this season. standing on our deck one evening, i was looking at these tiny orange sparks all over our backyard. i imagined they were actually tiny fairies sneaking out in the summer shadows. but i brought myself back to reality and told myself, a "firefly forest" would be more feasible.
it's my first time to ever see so many fireflies. back in the philippines, fireflies are becoming more and more rare. i remember seeing a few in this one tree in front of my aunt's house in san mateo, rizal. that was last year. i hardly remember any more firefly sightings before that.
i tried to record the little "firefly forest" in my digicam's video mode, but it was too dark to capture any firefly flicker. ha! should've figured that out beforehand. but it doesn't hurt to try.
xoxoxoxoxo
the other weekend, i got to attend my
lawyer friend's birthday party
in her cozy and spacious connecticut home. she only had a few visitors, and they were mostly relatives from new york. i got to meet her congenial husband, and cute little two-year-old daughter. their house had a lot of filipino paintings in it, which showed the husband's patriotic spirit despite having grown up here in the states. you wouldn't think my friend is already married and has a kid, she's that gorgeous. she's one of the popular faces back in law school with that noticeable americanized accent when reciting. we weren't that close in law school, but she was very friendly towards everyone....even until now. god bless her soul.
xoxoxoxoxo
last weekend, my family went to this family picnic outing sponsored by the
st. clare's health system
specially for its employees and their families. the venue?
six flags great adventure
in jackson, nj. i've been constantly seeing/hearing ads for this theme park...even on soda cans with the "buy one, get one free" offer for the theme park tickets. they have discount coupons available in every dunkin donuts and wendy's and god knows where else. with that kind of advertising, how can anyone miss a visit to six flags this summer?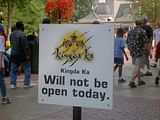 kingda ka is kurrently klosed, kae?
the ride they boast the most about is the "
kingda ka
"...said to be currently the world's tallest (456 feet) and fastest (128 mph) roller coaster. however, this much hyped-up ride is curiously closed...because, according to their website, they want to make sure it meets the customers' high expectations given its current reputation. i wonder how the very first riders felt after getting on this ride, because i sure hurt my neck in that
batman ride
. i lost count of how many times we flipped upside-down at break-neck (literally) speed.
there were so many people that you had to wait at least an hour just to get on a ride. and i didn't get to enjoy myself as much or take too many pictures because my gluteus maximus was threatening to unleash a
weapon of mass diarrhea
. thankfully, i controlled it until we got home that evening. haha.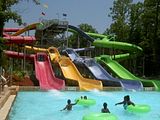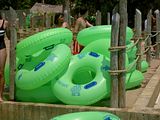 well, i got to slide down the neon tubes at
hurricane harbor
...and the best part about this whole trip is the FREE FOOD! unlimited hotdogs, burgers, soda and ice cream!