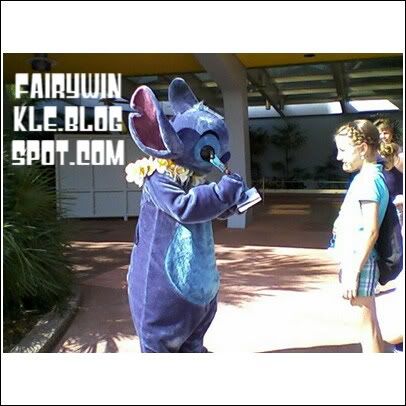 STIIIIIIIIIIIIIIIIIIIITTTCHHHH!!!!!
He was the very first character we saw after we gawked at the Giant Golfball-Thingamajig at Epcot, so my companions and I squealed and queued for his autograph right away. This celfone image from my Samsung phone is the only photo I have of him, because
the camera I used to pose with him got lost in Universal Studios
two days later. This was back in April.
He was so adorable! When I posed with him, we held out our arms and bent our knees a bit like we were surfing. He also liked how I wore a hibiscus flower in my hair (a happy coincidence, because I had plucked that flower at the hotel before going to Epcot that morning). Therefore, I got to be Lilo sans the Hawaiian dress. When he signed my friend's autograph, he pretended to lick the page so that when he handed it back to us, his "signature" was actually smudged with moisture.
Ah well, perhaps we'll meet again, Stitch. Hopefully with Lilo, too.