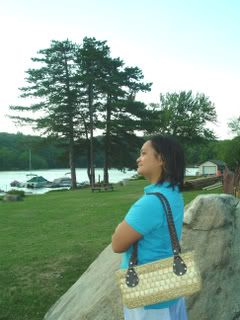 i don't really like posting pictures of myself in my blog. it's very rare that i do. if you've seen my photo(s) in my blog archive, then you're lucky.
since it's
my birthday month
(eherm...pass me a ricola?), i decided to be easy on myself, and give in to tiny doses of vanity. so here's a photo of myself toting a native bag given to me as a gift by a good pal,
gladys
, when we met in manila last february. i could only wear it during the summer, so i made sure i got to use it.
photo taken by my sister at
white meadow lake
in rockaway, new jersey in august, post-swimming.